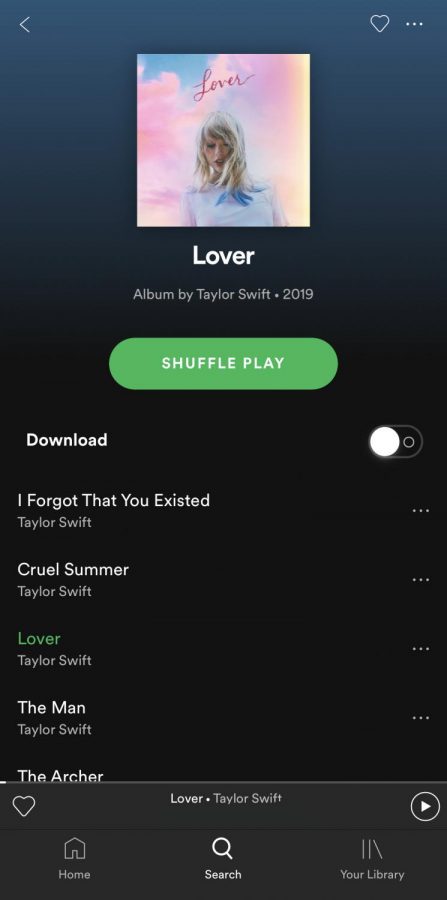 Taylor Swift's new album is a sharp shift from her previous work
September 25, 2019
Taylor Swift's new album acts as a spotlight on diverse – and often controversial – topics. Her album entitled Lover elaborates on gender roles, the LGBT+ community, and the unpredictable ups and downs of love. Lover debuted at number one in countries including the US, Australia, Canada, Ireland, Spain, and the UK.
Touchy subjects, such as LGBT+ culture, have been the headlines of recent pop music, recognizing the struggles and current social status of the community. In the second single, "You Need to Calm Down," Swift takes an aim at people against the equality movement through a friendly anthem.
"Personally, I liked the bravery and risks that Taylor Swift took when writing her new album," sophomore Cole Miranda said. "It's an inspiration to artists and listeners around the world, and it creates a whole new viewpoint on artists that speak about their standpoints. "
As a whole, the album focuses on self-growth and self-acceptance, contrasting  her past albums, which feature themes of failed love and broken relationships.
"I want to be defined by the things I love – not the things I hate, not the things I'm afraid of, not the things that haunt me in the middle of the night," Swift said during a self-assessment monologue closing out her last track. "I think that you are what you love."
Social statuses, loss, relationships, pressuring media, and personal growth are also mentioned in her 18-track record. More than 178,600 copies were pre-saved, and roughly 450,000 copies were sold on the release day. The album took this year's record for biggest first-week sales, topping one of Swift's other works, Reputation. She also debuted one on the Billboard 200 chart.
Taylor Swift's new album is an unmissable, record-breaking, vital part of today's pop industry. The pop artist brought a new way of diffusing her stances on about topics like the LGBT+ community, gender roles, and self-love.