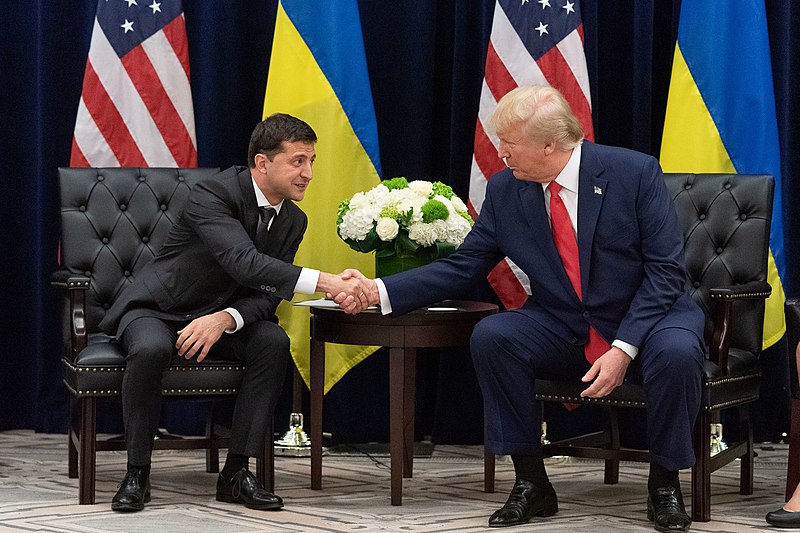 Photo courtesy / Wikimedia Commons
Talks of impeaching President Donald Trump are well underway after an anonymous whistleblower alleged that the Commander in Chief contacted Ukraine's president to obtain condemning details about 2020 Democrat presidential frontrunner and former Vice President Joe Biden, and his son, Hunter. For the unacquainted in politics, here is what you need to know.
In the history of the United States, only two presidents have been impeached: Andrew Johnson and Bill Clinton. House Speaker Nancy Pelosi announced on Sept. 24 that she and her fellow Democrats were calling for a formal impeachment inquiry against President Trump.
Impeachment of President Trump has been discussed before, especially during the the Mueller investigation, but after the report concluded that there was not enough evidence to indict any illegal wrongdoing on Trump's end, such conversations ended shortly after. During the original discussion, impeachment was also not favorable among many voters. At that time, many felt the issue with impeachment was solely because of partisan conflict.
"There's more congressional approval this time around," US History teacher Mr. Diego Carlos said. "More people agree that [impeachment] is necessary."
Before the House votes on impeachment, the House Judiciary Committee must vote to approve articles of impeachment, which officially begin the process. Then, at least 218 members of the House of Representatives would need to vote in favor of impeachment. Democrats hold a 235-198 advantage in the House, so this majority could bring impeachment charges against Trump without any Republicans voting in favor. If the articles are approved, a trial would be held by the Senate and presided by the chief justice in order to acquit the president or remove him from office. The Senate is controlled by Republicans, complicating the matter for those who want to end Trump's presidency.
Important to note is the issue behind the calls for impeachment. On July 25, a phone call between President Trump and Ukrainian President Volodymyr Zelensky took place. Ahead of the event, Trump had frozen almost $400 million intended for Ukrainian military efforts, rendering them unable to access the funds they needed to combat Russian occupation. During the call, Trump suggested that the United States was greatly assisting Ukraine through this financial military aid. He then asked the foreign leader to review a claim that Joe Biden stopped an investigation into his son's actions as a board member on a Ukrainian gas company.
The whistleblower complaint describing Trump's possible abuse of power sparked a fierce debate with sharp differences in perceptions of this event. Trump's critics accuse him of using the powers of the presidency to coerce Ukraine into digging up damaging information on a political rival, Democrat Joe Biden. President Trump and his supporters allege that the former vice president abused his power to pressure Ukraine to back away from a criminal investigation that could have implicated his son.
No corroborating evidence has pointed to any wrongdoing by Joe or Hunter Biden.
As for the president, possible wrongdoing is currently being analyzed by the House Judiciary Committee.
"Trump could be looking at [charges of] bribery," Mr. Carlos said. "More importantly, however, they are looking at abuse of power; Trump allegedly withheld funds from Ukraine in almost a quid pro quo type of situation."
Trump has since released a transcript of his call with the president of Ukraine. The call will be reviewed and will be a factor in the decision of whether or not to move forward with impeachment. If it is approved, House Democrats expect that the articles of impeachment vote could come shortly before Thanksgiving.