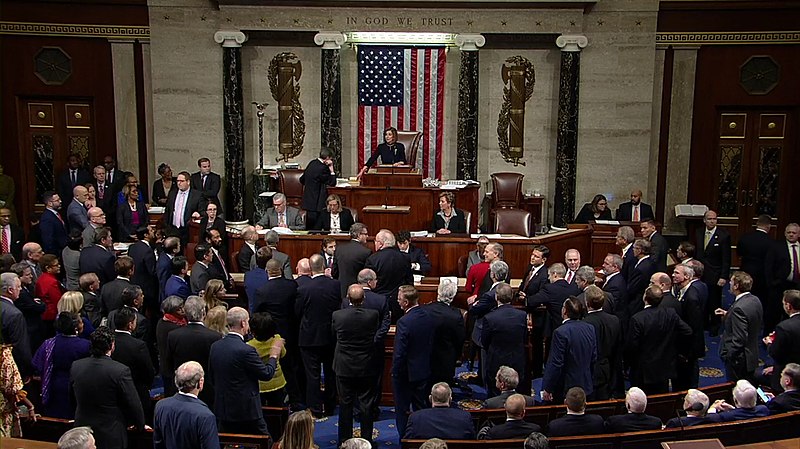 Photo courtesy / Wikimedia
On Dec. 18, 2019, President Donald Trump became the third president in US history to be impeached. Impeachment is defined as being a charge of misconduct made against the holder of a public office. Trump got impeached because the House of Representatives, composed of mainly Democrats, voted "yes" on an article of impeachment. The impeachment process then advanced to the Senate after about a month, when Speaker of the House Nancy Pelosi sent the impeachment articles to the Senate.
The articles were sent to the Senate on Jan. 16, and the trials concluded on Feb. 5, when the vote fell short of the two-thirds majority needed to remove Trump from office.
This whole impeachment process is pointless for Democrats and beneficial for Trump in the upcoming presidential election taking place on Nov. 3. Trump did get impeached, but this means nothing if he is not removed from office. According to Roll Call, from September to December, the impeachment process spent $3.06 million of taxpayer money. This is money that could have been spent on the military, medical advancements, and improvements on America. Trump is also confident that he is making political gain through the impeachment process.
"It's a very sad thing for our country, but it seems to be very good for me politically," Trump said back in December. "The polls have gone through the roof for Trump…especially with independent voters, and especially in swing states."
Trump's impeachment process has been seen before. President Bill Clinton went through the process in 1999 and became the second president of this country to become impeached. Clinton was a Democrat, while Trump is Republican. Clinton's trial took a longer time to reach the Senate trials, though there was no House investigation. Instead, they looked at independent counsel Ken Starr's inquiry.
Both Clinton and Trump were impeached in the House but acquitted in the Senate, remaining in office. The US could learn a lot from these processes. Flaws are obvious in the impeachment process. In the future, the role of partisan voting in the house should be looked at because the majority of Democrats will vote for their party and against the opposing party and vice versa for the Republicans.
The impeachment process that started in September is now over. President Trump will go down as the third U.S. president to be impeached, but he will remain in office and could even be re-elected president until 2024.