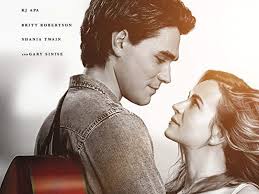 Photo courtesy / Drydenwire.com
The 2020 film I Still Believe has been one of the most viewed films of 2020. The movie is based on a Christian music artist, Jeremy Camp, and his journey through love and faith. Camp falls in love and gets engaged for the first time, but unfortunately receives devastating news about his fiancée's health. The movie, which is based on a true story, was released on March 7, and was produced my Kevin Downes.
The film's stars include KJ Apa, who plays Jeremy Camp, and Britt Robertson, who plays his former wife, Melissa Lyn Henning-Camp. Before the two wed, Melissa was diagnosed with ovarian cancer. This causes Jeremy's love towards her to grow. Her sickness causes Jeremy to question his faith, but overall, he is the most hurt that his true love is suffering. Only four months into their marriage, Melissa passes, leaving him broken and questioning everything. Jeremy explains that what got him through his grief was his love and relationship with Jesus.
According to the Chicago Sun Times, "This is the kind of movie where you know there's a falling-in-love musical montage coming, and it's not a surprise when Melissa takes Jeremy to her special place — a planetarium where the 'sky' lights up with magical stars."
Jeremy put all his pain into his hit song, "I Still Believe." This song has inspired many and focuses on struggles Camp faced that helped his faith grow. It is because of this song that the movie was created. The main purpose and motivation he had was to share the strength he found in God through his tough time.
Today, Jeremy is married to Adrienne Camp, with whom he has three children. He has also become an ordained minister, helping him grow his faith even more. His music genre falls under Christian and worship music, which he wouldn't be able to share without his first hit, "I Still Believe." Camp shared this song while to express his grief and love for his first wife, Melissa.
"The whole basis of the song is that basically, no matter what happens in your life or how devastating a situation may be, God is still on the throne," Jeremy Camp said in an interview. "And everything in His word is truth."
Although this movie's target audience was mostly aimed at Christians, millions of other people have been moved by Camp's struggles and music ability. This film has been very successful since it has been released and is continuing to expand its reach. This feel-good movie is sure to boost your faith and give you an extra step of confidence to overcome whatever you may be going through. It is well worth the watch during this unprecedented time.