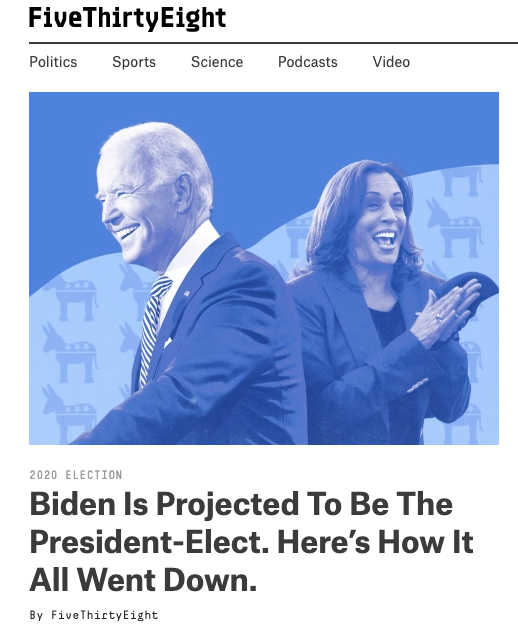 Biden wins presidency
Joe Biden and Kamala Harris are headed to the White House next year after being projected the winners of the election on Saturday. The election was historic in many ways. More votes were cast this election than in any previous ones. Mail-in ballots provided a way for millions to vote safely during the COVID-19 pandemic. Most notably, of course, Americans did not know the results on Election Day for the first time in 20 years, waiting over four days for votes to be processed.
On Tuesday night and into Wednesday morning, news outlets called Alabama, Arkansas, Florida, Idaho, Indiana, Iowa, Kansas, Kentucky, Louisiana, Mississippi, Missouri, Montana, Nebraska, North Dakota, Ohio, Oklahoma, South Carolina, South Dakota, Tennessee, Texas, Utah, West Virginia, and Wyoming for Trump. They called California, Colorado, Connecticut, the District of Columbia (Washington, D.C.), Delaware, Hawaii, Illinois, Maine, Maryland, Massachusetts, Minnesota, New Hampshire, New Jersey, New Mexico, New York, Oregon, Rhode Island, Vermont, Virginia, and Washington for Biden.
Nebraska and Maine grant electoral votes differently than other states. Each give two of their votes are given to the statewide winner, with the remaining votes going to the popular vote winner in each of their congressional districts. In this election, it meant three of Maine's four votes went to Biden and four of Nebraska's five votes went to Trump.
This put Biden in the lead, with 227 electoral votes to Trump's 214.
However, electoral vote counts began to vary on Wednesday morning after Fox News and the Associated Press also controversially called Arizona for Biden. Nate Silver of FiveThirtyEight felt that the decision to call the state on Nov. 4 came too soon.
"I don't know, I guess I'd say that Biden will win Arizona if you forced me to pick, but I sure as heck don't think the state should have been called by anyone, and I think the calls that were previously made should be retracted now," he said on a FiveThirtyEight blog post that evening.
As of Nov. 9, some news outlets had not yet called the Arizona race.
On Wednesday, tight races in Michigan and Wisconsin were officially called for Biden by small margins.
By Thursday morning, Nevada, Pennsylvania, Georgia, North Carolina, Alaska, and – depending on the source – Arizona had yet to be called. Nevada and Arizona looked likely to lean left, while Pennsylvania, Georgia, and North Carolina seemed likely to favor Trump.
Pennsylvania and Georgia's counts revealed more Democratic than Republican ballots on Friday, however. This year, there was a partisan division regarding how people voted. Democrats were more likely to vote by mail, while Republicans were more likely to vote in person – due, in part, to Trump's criticism of mail-in ballots. Pennsylvania and Georgia saw a "red mirage," a term used to refer to states that initially appeared to sway Republican before mail-in votes revealed a greater likelihood of voting for a Democrat.
As of Nov. 9, Georgia remains too close to call and is leaning toward Biden. The North Carolina race is also too close to call, and the Alaska race is too early to call; both of these still appear likely to cast their electoral votes for Trump.
The presidential race was decided on Saturday. News outlets projected that Biden had won Pennsylvania, giving him enough electoral votes to become the president-elect. Nevada was also called on Saturday, furthering Biden's lead.
Trump has been reluctant to accept the results of the election. He has released several tweets that caused Twitter to issue disclaimers about false or misleading information.
"I WON THIS ELECTION, BY A LOT!" Trump claimed in a tweet right before the election was called for Biden.
The Trump campaign has filed several lawsuits in Pennsylvania, Nevada, Michigan, Georgia, and Arizona, some before the election was called. Still, many legal experts do not believe they will affect the outcome of the election.
Most firmly believe President-elect Biden and Vice President-elect Harris will be sworn in on Jan. 20, 2021. Harris would be the first female, the first African-American, and the first Asian-American Vice President of the United States.