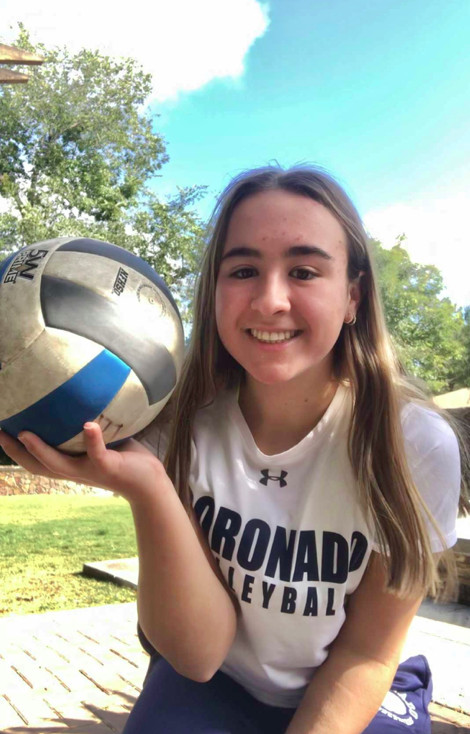 Photo courtesy / Caroline Mann
While Coronado High Schools' junior varsity and freshman volleyball seasons were canceled earlier this year, the varsity team was able to finish out the season this month.
On Nov. 14, the Coronado High school varsity volleyball team played rival team Franklin High School.
Coronado won three sets, and Franklin won one set of the game.
The first set was 21 to 25 and was won by Coronado. The second set was 15 to 25, also won by Coronado. The third set was 25-22, won by Franklin, and the third and final set was 13-25, leading Coronado to a triumphant win.
Coronado had a total of 133 attacks, and sophomore Allison Miller had the greatest number of attacks with a lead of 41 kills.
Franklin had a total of 141 attacks, and Paulina Acuna had the most kills on the Franklin team with a lead of 45 attacks.
Coronado had a total of 102 digs, and senior Alyssa Aguirre had the greatest number of digs with a lead of 25 total digs. Franklin had a total of 26 digs, and Victoria Briones had a lead of 29 total digs.
"It was super scary but also super fun, and I loved playing with my teammates," sophomore Mia Plesant said. "This is my first year playing on the varsity team and to think I was once a fan in the stands and now I'm a player is pretty crazy to me."
"The game was pretty insane, and the feeling that ran through me when we won was something I've never felt before," sophomore Janais Milan said. "It proved that hard work does pay off and that even in hard times a team can pull through to achieve a goal."
The Coronado varsity volleyball team went on to play San Angelo Central High School on Nov. 20, winning all three sets. They then lost the playoff match against Byron Nelson High School on Nov. 24, ending the 2020-2021 season.