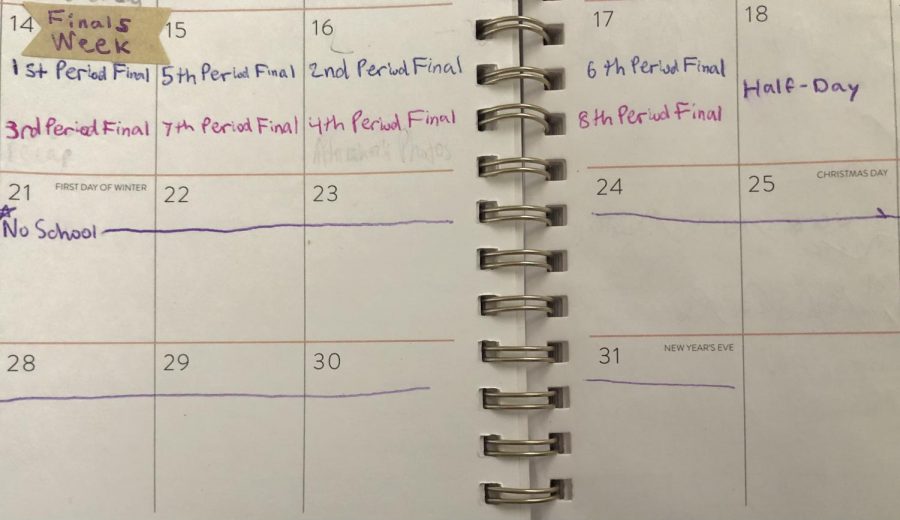 Finals week schedule
Students at Coronado are scheduled to begin finals on Monday, Dec. 14 and finish testing on Thursday, Dec. 17. The week will close off with a half-day on Friday, Dec. 18.
Students will take two finals per day and attend two non-testing class periods on testing days. On Monday, students take their first period final exam and third period final exam. On Tuesday, students take their fifth period final exam and seventh period final exam. On Wednesday, students take their second period final exam and fourth period final exam. On Thursday, students take their sixth period final exam and eighth period final exam. And, finally, on Friday, students attend all eight of their classes for 20 minutes and leave mid-day.
Some students will qualify for exemptions from final exams. In order to be exempted from finals, students must have a semester average of at least 90 in the course in question and three or less excused and/or unexcused absences. Absences related to religious holidays, school-related activities, and principal or principal designee-approved visits to institutions of higher education will not count. The usual physical exemption forms will not be used and instead, students will be notified if they meet the criteria to be exempted. If this is the case, they must check into class at the beginning of the testing period and will before being excused by the teacher.
The final exam comprises ten percent of the semester grade. The nine weeks one and two grades are averaged together and added to the final exam grade to get the overall semester grade. For students who are exempt from the final, XMT will appear in the grade book, and the overall semester grade will be the average of the two nine weeks' grades.
For those without an approved exemption from the final, completion of the test is required. Students who fail to do so will receive a 0.
The full schedule for finals week can be viewed below.