Traditional and unusual holiday movie recommendations
Here is a list of movies to watch these holidays. We have included classics and unconventional ones that we think you might like.
Home Alone (1990)
Home Alone is a classic holiday movie that your family will love. It follows the adventures (and misadventures) of young Kevin McAllister as he defends his home from two robbers in a manner of hilarious ways, rigging his house with various traps and appliances. You will not be able to hold back your laughter during this classic family comedy movie.
Song of the Sea (2014)
Song of the Sea is a story wrapped in the mysticism and lore of Irish mythology. The protagonist, Ben, is a ten-year-old boy who struggles with the loss of his mother, a situation worsened by his unreceptive family. But when Ben discovers his little sister, Saoirse, is a selkie, a supernatural being that can turn from human to seal, his entire world changes. The movie is a heartwarming and bittersweet testament to familial love. You might shed a few tears at this movie.
Elf (2003)
Elf follows the story of Buddy, a human raised as an elf. After discovering the identity of his biological father and realizing that he is on Santa's naughty list, Buddy resolves to travel to New York to help his father. Elf is filled with laughs, but it also imparts the lesson of a father and his son reconciling.
Knives Out (2019)
A murder mystery might not be what everyone has in mind for a cozy holiday movie binge, but this unconventional pick might just be it for you. Marta Cabrera stars as the heroine in this delectable whodunit story, reminiscent of the Clue-type of murder mysteries in which the objective is narrowing down who could be the murderer. Knives Out is spectacular because it keeps the viewer hooked and the surprise ties everything together rather than resulting in disappointment. You will be on the edge of your seat, wildly trying to figure the murderer out. Additionally, Knives Out does not have much gore in it, so you can watch it with younger viewers.
The Nightmare Before Christmas (1993)
Is it a Halloween movie? Is it a Christmas movie? A little of both then, perhaps. The Nightmare Before Christmas is a Tim Burton movie musical. In typical Burton fashion, the film is goth and macabre. Nonetheless, The Nightmare Before Christmas is a little endearing. The plot revolves around Jack Skellington, a major public figure in Halloween Town. He becomes bored with Halloween and, after stumbling upon Christmas Town, decides to abduct Santa and usurp his position. The movie was a critical success, garnering the approval of adult and child audiences alike. Come for the story, stay for the gothic synthesis of Christmas and Halloween.
Matilda (1996)
Matilda is another movie where a child combats numerous enemies, all of whom are adults. Matilda is a plucky six-year-old genius whose accomplishments go unnoticed by all except for her teacher, Miss Honey. Matilda's enemies include her neglectful parents and the dastardly headmistress Miss Trunchbull. Matilda is a movie that has delighted and enamored viewers with her flaming personality and quick-wittedness.
The Muppet Christmas Carol (1992)
The Muppets are one of America's childhood superstars, with well-known characters like Kermit and Miss Piggy. The Muppets redo the tale of one Ebenezer Scrooge, a grumpy businessman who curses Christmas and is challenged by spirits to reform himself. Performed by the multi-talented cast of Kermit, Miss Piggy, and their extras, it's a wonderful musical experience of an age-old Christmas story.
Ponyo (2008)
Ponyo is a movie from Ghibli director Hayao Miyazaki's repertoire. It is wrapped in themes of childhood and growing up. Think The Little Mermaid but minus the romance and plus the strength of friendship. A large portion of the story revolves around Ponyo and the main hero, Sosuke, who attempt to restore the balance of nature. The main themes of the movie are friendship and parents accepting their kids for who they are. It's a super cute movie, and you'll find yourself smiling at Ponyo and Sosuke's friendship.
The Polar Express (2004)
The Polar Express is a Christmas classic from our childhoods; it tells the story of a little boy who does not believe in Santa Claus. But out of nowhere (or by magic) a train – called the Polar Express – appears, on its way to the North Pole. We follow the little boy's adventure, from a dispirited child to a true believer in the spirit of Christmas.
Annie (1982)
Lastly, we finish off this list with the story of a happy-go-lucky orphan named Annie. Annie's songs and characters are memorable: the wistful but bright Annie, the grim but secretly soft Warbucks, and the compassionate Grace pining for her employer. The movie is heartening and sweet – not to mention a classic. Your family will love an uplifting movie like this.
Whatever you decide to watch, happy viewing!
About the Writer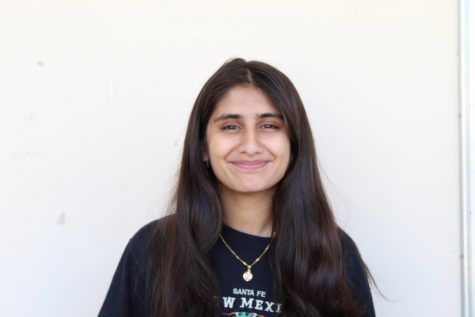 Noorziyan Rabudi, Editor
Noor Rabudi is a junior, and this is her second year in newspaper. Her favorite part of newspaper is expressing her opinion. She's considering careers...