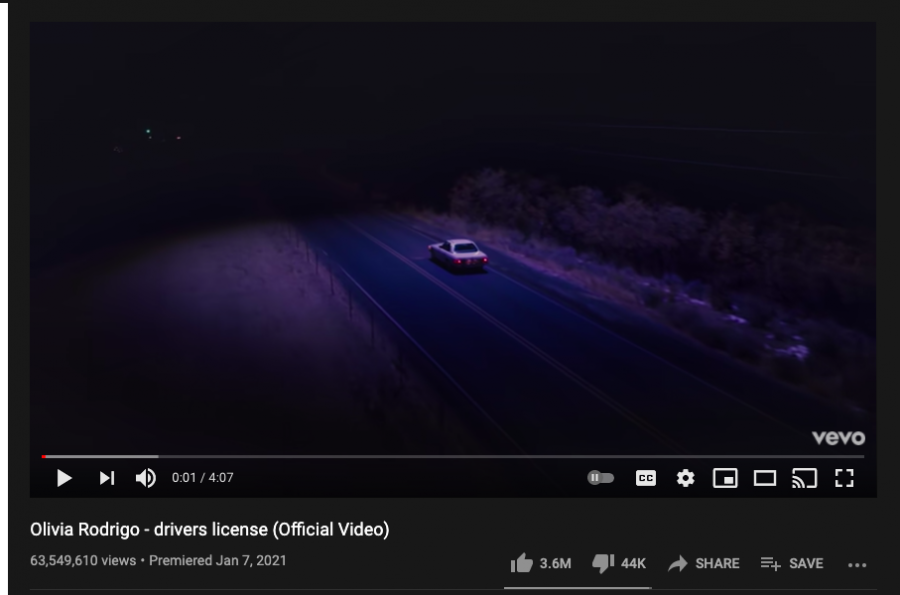 'drivers license' becomes an instant hit
Disney star Olivia Rodrigo's new debut single "drivers license" via Geffen Records has received overwhelming attention, breaking records on streaming service sites and going viral on social media.  
After being released on Jan. 8, Rodrigo's song has broken the Spotify record for "most streams of a song in a single week." And, according to Spotify's global weekly Top 200 chart, it was streamed 65,873,080 times during the week ending on Jan. 14.  
The hit song also broke the record for "the biggest first week streaming debut ever globally" on Amazon Music.  
As of Jan. 17, Apple has announced it is currently the most played song on Apple Music worldwide.  
The song has been the latest TikTok obsession, with many using the audios to create new content on the social media platform, like rewriting it from another perspective.  
The pop ballad expresses the grief of teenage heartbreak, a grief that perhaps resonates deeply with its young listeners.
"I really liked the song because you could hear how vulnerable Olivia was," senior Caitlin Robinson said. "It felt really relatable."
The 17-year-old's debut song has become popular for its emotional impact, which has left room for speculation as to who the song is about. Some TikTok users suspect the song is about Rodrigo's rumored ex-boyfriend and current "High School Musical: The Musical: The Series" co-star, Joshua Bassett. 
Rodrigo first appeared on Disney Channel in the tween sitcom "Bizaardvark." She then landed the role of Nini Salazar-Roberts in "High School Musical: The Musical: The Series." Though "drivers license" is her first single, Rodrigo has previously written successful songs. She wrote two for "High School Musical: The Musical: The Series," the most popular of which is "All I Want," whose official video on YouTube has over 38 million views. But none of her previous work had led to worldwide overnight recognition.
The streams of her latest song do not seem to be slowing down. Whomever "drivers license" is about, it latches onto the hearts of its listeners who may have someone special in mind. Rodrigo's success points to a huge star in the making, as she seems to have left an enormous impression behind with just one song.