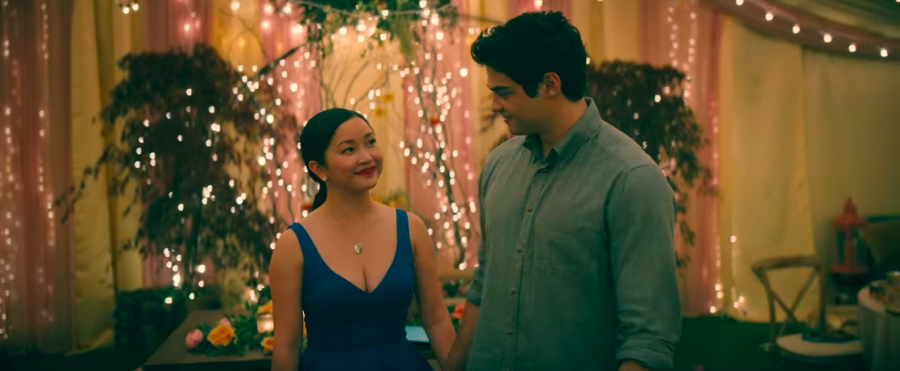 Photo courtesy / Netflix
When it comes to the storytelling, the narrative about two people who fall for each other and chase the idea of love has always existed. The To All The Boys franchise – composed of To All The Boys I've Loved Before, To All The Boys: P.S. I Still Love You, and To All The Boys: Always and Forever – relies on this love story element: conflict pulls apart two characters until they eventually end up together. Often, these rom-coms embrace concepts like fate or "the one" and focus on a young woman experiencing the honeymoon phase of relationships following the chase.  
The original TATB follows our lead character, Lara Jean, a high schooler who must navigate a sticky situation after her love letters written for ex-crushes are exposed. This leads to a relationship with the love interest, Peter Kavinsky. The second movie of the series expands on Lara Jean's insecurities when it comes to her relationship with Peter, while the recent third movie is focused around the two characters' clashing college plans and what that means for their future together.  
The TATB series is appealing for young audiences looking for escapism, which romantic comedies tend to provide. The original movie garnered much praise from critics for its honest perspective of love from a young woman's point of view. While the happy ending left many viewers satisfied and fulfilled, the series also explores the stages of a relationship following the honeymoon phase. Additionally, the lead cast for the film is a Vietnamese actress, Lana Condor. Presenting people of color in such rom–coms is huge progress in a world that has long presented white love interests and leads as the ideal. Creating more inclusivity in the entertainment industry does affect people of color positively.  
"It was great to see Lana Condor as the lead," senior Lucia Llano said. "Representation is important." 
While romantic comedies like the TATB series can positively impact viewers, they can also distort viewers' idea of love. Unrealistic standards about what love should look like can negatively affect people's relationships. While the meaning of love varies person to person, love can generally be thought of as more than just a feeling but a commitment to a person, even when obstacles complicate the relationship. However, where does this commitment cross the line? When do rom–coms romanticize unacceptable behavior such as stalking or toxic persistence or even ignoring red flags? In the case of the TATB series, are questionable actions simply dismissed for the sake of love? For example, is the emotional cheating between Lara and John Ambrose brushed off to heighten the sense of drama? It's also important to note that rom–coms can also uphold a certain expectation around happiness, which may revolve around just one person. Relying on one person for your own happiness can become unhealthy.  
"My issue with the rom-com genre begins with how viewers will actively observe the media portrayals of romantic behavior in these films and incorporate it into their own lives," senior Victoria Gonzalez-Cabrera said. "Social cognitive theory suggests that viewers are inclined to memorize and model the observed behavior because the romantic advances in these films always lead to the happy, beneficial end." 
Rom-coms like the TATB series are flawed, but then again, so are real people. What's important is not getting lost in the Hollywood picture-perfect idea of romance and instead finding a balance between escapism and reality. Relationships require much more than big romantic gestures and cheesy love poems. They require honesty, self-love, connection, and trust.