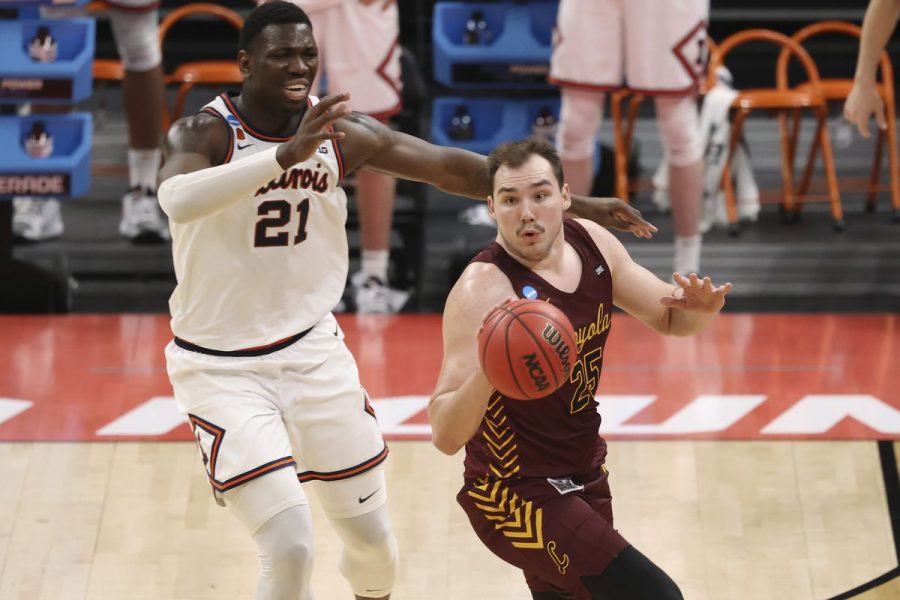 March Madness Sweet Sixteen preview
March 25, 2021
The first March Madness tournament in two years has just entered the Sweet Sixteen round, and the first two rounds did not disappoint. Through the first two rounds, there have been 14 upsets, which is an insanely high number compared to previous years.
A big headline in the tournament is Loyola Chicago's return to the Sweet Sixteen after defeating Illinois in the second round on Sunday. Their 2018 tournament run saw them make it to the Final Four as an 11th seed, only to lose to Michigan, who would eventually lose to Villanova in the championship.
This has also been just the second time a 15th seed has made it to the Sweet Sixteen in tournament history, with Oral Roberts defeating second-ranked Ohio State and 7th-seed Florida.
Gonzaga looks to be unstoppable, keeping alive their undefeated season with a 43-point win over Norfolk State and a 16-point win over 8th-seed Oklahoma. According to the NCAA, Gonzaga is first in point differential with a scoring margin of 23.
The tournament was not invincible to COVID-19, as VCU had to forfeit their first-round game to Oregon due to COVID protocol. Oregon then upset 2nd-seed Iowa in the second round, sending them home and advancing to the Sweet Sixteen.
Every year, fans attempt to create and predict the first perfect bracket in history, but that did not last long again this year, as there are no more perfect brackets heading into the Sweet Sixteen.
Though nearly everyone's bracket is busted due to the crazy amount of upsets this year, fans cannot help but be excited to see how the rest of the tournament plays out. The Sweet Sixteen kicks off this weekend on Saturday with 12th-seed Oregon State vs. 8th-seed Loyola Chicago.
Fans will continue to see how the many Cinderella teams perform the rest of the way through. Will the Pac-12 continue to show out this tournament? How far will 11th seeds Syracuse and UCLA go? Can Gonzaga remain perfect and take the trophy home this year?
There are many questions regarding the rest of 2021 March Madness, but one thing's for sure: it's good to have it back after the disappointing cancellation last year due to COVID-19.
The Sweet Sixteen starts on Saturday at 12:40 PM with Oregon State vs. Loyola Chicago on CBS. The rest of the games – Villanova vs. Baylor, Oral Roberts vs. Arkansas, Syracuse vs. Houston, Creighton vs. Gonzaga, Florida State vs. Michigan, UCLA vs. Alabama, and Oregon vs. USC – will take place on Saturday and Sunday.