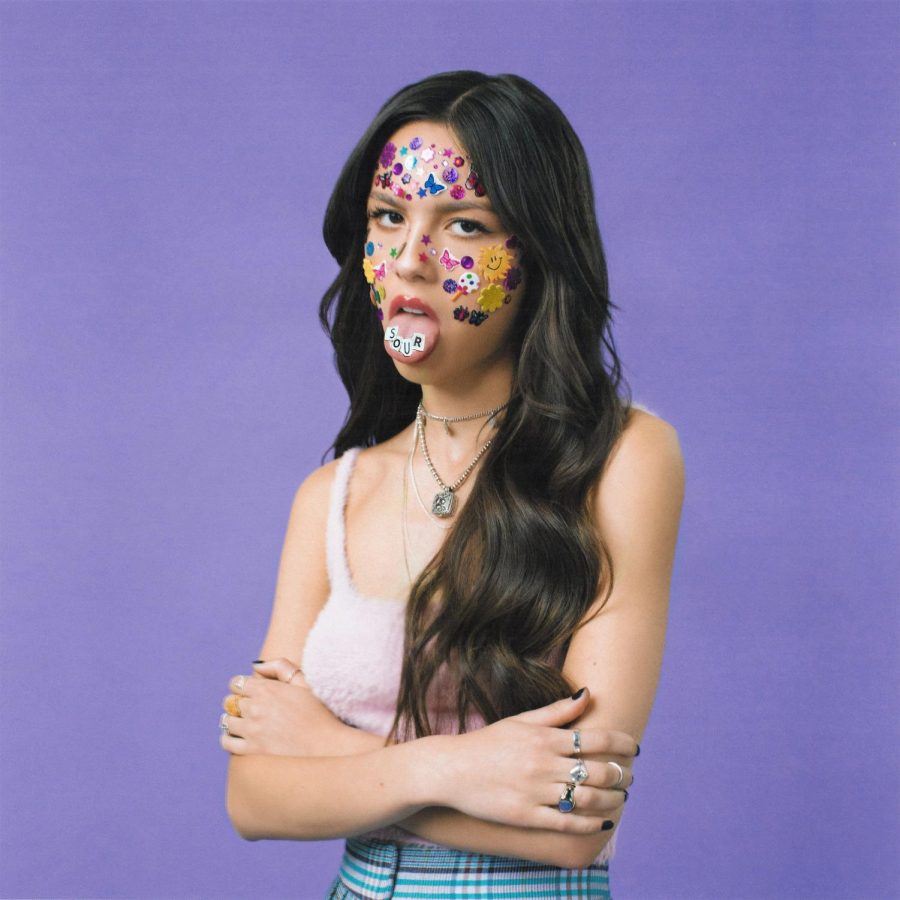 Photo courtesy / @oliviarodrigo (Instagram)
Just 133 days after taking the world by storm with her hit single "drivers license," singer-songwriter Olivia Rodrigo released her debut album, SOUR, on May 21.
Prior to the release of her first single, the now-18-year-old was most well-known for playing Nini Salazar-Roberts on the Disney+ show "High School Musical: The Musical: The Series." She wrote and performed her first published song, "All I Want," for her character in 2019, and it was gold certified by the Recording Industry Association of America (RIAA) the next year.
"drivers license" brought her to a new level of fame and caused existing and new fans alike to eagerly anticipate new music. Even in light of the excitement, SOUR exceeds expectations because of Rodrigo's characteristic emotional vulnerability and surprising, diverse choices.
The first track, "brutal," begins with a slow instrumental intro, before Rodrigo declares, "I want it to be, like, messy." This lyric sets the tone for the album as a whole. Covering subjects like insecurity, heartbreak, rage, envy, and hope, the album has no cohesive sound or feeling. Instead, SOUR encapsulates both modern and timeless teenage struggles in a little under 35 minutes.
"brutal"
The album starts with a punk-rock song, highlighting Rodrigo's ability to compose music of various genres. "brutal" abruptly transitions from mild and slow to up-tempo and quick, expertly mirroring the intensity of young people's emotions.
"It's a really angsty song, I suppose, and I sort of just talk about everything I'm upset about in the song, to put it very plainly and broadly," she told YouTube RELEASED.
She addresses the pressures of being part of the entertainment industry, the tendency of adults to write off adolescents' challenges, the desire to be liked, and feelings of inadequacy. How deeply these issues weigh on her mind is reinforced by the powerful guitar and the mixture of rapping and singing that she employs.
The tempo eventually slows and whispers of "Yeah, it's brutal out here" give way to deafening stillness, the end of a striking first piece in an unforgettable album.
"traitor"
The second track is a raw, melancholic ballad that places Rodrigo's impressive vocals front and center and delves into her breakup last year. She admits the difficult truth that her ex-boyfriend fell in love with another girl while they were still dating: "Guess you didn't cheat, but you're still a traitor."
Shortly afterward in the song, she ironically asks, "Ain't it funny?" as she catalogues her ex's attempts to reassure her that he was not in love with someone else, stressing the devastating impact of this event.
All that is left behind is the regret she feels for having fallen in love with him in the first place, which she perfectly immortalizes in this song.
"drivers license"
"drivers license" debuted on Jan. 8 as the top song on the Billboard Hot 100 chart, a spot that it maintained for eight consecutive weeks. The song also broke records, including the Spotify record for most streams in a day of a nonholiday song. Rodrigo performed "drivers license" on "The Tonight Show" on Feb. 4 and at the 2021 BRIT Awards on May 11. The song inspired a sketch on "Saturday Night Live" that premiered on Rodrigo's eighteenth birthday; the artist then performed "drivers license" and "good 4 u" on the show on May 15.
The four-minute ballad chronicles the painful experience of getting her driver's license and being reminded of her ex in every detail of the drive. The combination of simple singing and anguished belting make the vulnerable piece that much more heartrending.
"1 step forward, 3 steps back"
"1 step forward, 3 steps back" interpolates Taylor Swift's 2017 song "New Year's Day." Rodrigo considers Swift to be one of the most influential figures on her own songwriting.
The plain melody and vocals place the lyrics about craving validation from a romantic partner and the instability of some relationships at the forefront of listeners' minds. Still, it is overshadowed by the more complex songs in the album.
"deja vu"
The fifth track in SOUR was released on April 1 as a single following "drivers license." It describes Rodrigo reminiscing on memories with her ex as she witnesses him recreating those same moments with his new girlfriend, who is oblivious to the lack of originality in her relationship.
Rodrigo suggests that her ex's new relationship is superficial and not destined to last, merely a recreation of the bond that they once shared. Her tone is almost mocking, even including a vocalizing portion that sounds like laughter.
Beyond the intriguing subject, the sonically layered music allows for a different discovery with each listen. One particularly special hidden gem is the whispered "I love you" after the lines "Now I bet you even tell her how you love her/In between the chorus and the verse."
With all of these expressive elements at play, it is no surprise that the song was popular from its release. "deja vu" debuted at the #8 position on the Billboard Hot 100, making Rodrigo the first artist whose first two singles began in the top ten.
"good 4 u"
The pop-punk song was released as Rodrigo's third single on May 14, the final one before SOUR debuted. Upbeat and energetic and unmistakably angry, it captures the resentment she feels in watching her ex effortlessly move on from their relationship while she is enveloped in heartbreak. Far from subtly reminding her ex of the beautiful parts of their time together, she ruthlessly denounces his behavior with lyrics like "Remember when you swore to God I was the only/Person who ever got you? Well, screw that, and screw you/You will never have to hurt the way you know that I do."
The thrilling song sweeps listeners along for the rage-fueled ride, accentuated at one point by a high-pitched feedback sound. "good 4 u" is so fast-paced that Rodrigo's occasional quick breaths before verses are slightly audible, giving another human dimension to the song.
The ending of "good 4 u" is somewhat sudden, but then again, the ending of the relationship that inspired this song apparently was, too.
"enough for you"
Rodrigo takes a vastly different approach to her breakup in "enough for you" than in the track before it. She laments changing herself to appeal to her ex's preferences, especially as her efforts did not even prevent him from leaving her.
Simple guitar chords accompany sorrowful lyrics such as "But God, you couldn't have cared less/About someone who loved you more" and "I'd say you broke my heart/But you broke much more than that."
Like "1 step forward, 3 steps back," it powerfully speaks to the experience of unhealthy dependency on a romantic partner for happiness, which only perpetuates displeasure with oneself. It does end on an optimistic note, though, as Rodrigo sings about one day finding someone who loves her wholeheartedly the way her ex never did.
"happier"
A crescendoing, electronic-like intro leads into a modern, piano-driven song about trying to wish her ex the best but secretly hoping their relationship was more fulfilling than his new one.
She accents her belief that she was a better fit for her ex than his new girlfriend by singing, "You've moved on, found someone new/One more girl who brings out the better in you," not the best in you.
Her mind assures her that it is time to put this relationship behind her, while her heart compels her to urge him, "So find someone great, but don't find no one better/I hope you're happy, but don't be happier."
The real, public expression of an emotion usually kept hidden, along with the beautifully dynamic melody, make the song a valuable addition to the album. Additionally, "happier" carries an added significance: Rodrigo's producer, Dan Nigro, found an early version of this song on her Instagram, prompting him to reach out to the singer and setting in motion the chain of events that led to SOUR.
"jealousy, jealousy"
The ninth track in the album shifts away from relationship-centered commentary, instead discussing Rodrigo's tendency to compare her life to her perceptions of others' lives. The resulting inner conflict is one that most teenagers have experienced in the age of social media.
"I felt like my life was only what I showed others," Rodrigo shared with Nylon while talking about the period during which she wrote the song. "I didn't feel like my life was any deeper than my Instagram feed."
Rodrigo portrays the overpowering feelings of envy that arise from seeing a constant stream of seemingly perfect lives, singing, "I can't stand it/Oh God, I sound crazy." Dissonant piano chords punctuate the second half of the bridge – "All I see is what I should be/Happier, prettier, jealousy, jealousy/All I see is what I should be/I'm losin' it, all I get's jealousy, jealousy" – emphasizing the deleterious effects of comparison.
"jealousy, jealousy" infuses an unexpected sound into a necessary message from a realistic perspective.
"favorite crime"
A soft guitar melody frames SOUR's penultimate song. In "favorite crime," Rodrigo explores the idea that both sides are at least partly responsible for the relationship's flaws. She sings, "Know that I loved you so bad/I let you treat me like that" before adding, "One heart broke, four hands bloody."
Despite the pain caused by the relationship, she admits in the song, "And now every time a siren sounds/I wonder if you're around/'Cuz you know that I'd do it all again." She grapples with her inability to fully shut down her feelings for her ex.
The poignant yet delightful "favorite crime" allows Rodrigo's voice to truly shine through while blending seamlessly with the music.
"hope ur ok"
SOUR closes off with the somber but heartening "hope ur ok." In this sweet and harmonious song, Rodrigo shares the stories of people she once knew who faced unfortunate circumstances, wishing them a better life than they had then.
Rodrigo's favorite lyric of the album, according to an interview with Seventeen, is "Hope he took his bad deal and made a royal flush." Other notable lyrics include "Address the letters to the holes in my butterfly wings" – butterflies are a symbol of healing and rebirth as well as a recurring figure in her branding – and "Well, I hope you know how proud I am you were created/With the courage to unlearn all of their hatred/But, God, I hope you're happier today/'Cuz I love you/And I hope that you're ok," creating a sense of hope for a brighter future.
The track concludes with muffled dialogue and a single note that pulses like a heartbeat before fading into silence.
"hope ur ok" is the fitting finale to an eclectic, masterfully curated collection of songs that showcases Rodrigo's range in both musical ability and life experiences.
What's next?
Rodrigo does not appear to have any public plans to release new music on her own soon, but she has written a song for an upcoming episode of "High School Musical: The Musical: The Series."
"I think it's one of the best songs I've written," she said to Entertainment Weekly of the piece she currently refers to as "the rose song."
The astoundingly talented artist has already made her mark on the pop world, and it's clear that her influence will only continue to expand. All signs point to a highly successful career for this remarkable young singer-songwriter who has so much to say and so many ways of saying it.