Pry-ing our way into a District Title
The newest addition to the coaching room here at Coronado is Coach Mike Pry, the latest head coach hire for the football program since Coach Anderson was hired in 2013.  Coach Pry began his career of coaching at Burges in 2010, and later went on to Jefferson in 2011, Franklin from 2012-2014, and then Pebble Hills from 2015-2021.  His most recent destination is here at Coronado, but prior to all of this, Pry was a T-Bird himself.
Pry graduated from Coronado in 1995, playing football under the legendary Coach Don Brooks.  After high school, Pry was given a full scholarship to UTEP, where he would play both football and track for the miners.  Finally, once his years at UTEP were behind him, Pry went on and graduated from Texas Tech University and obtained his master's from Sul Ross.  Now, finally, Pry's dream of being the head coach for Coronado High School is finally achieved.
"Excitement would not do it justice. This is my dream job and at a school that means everything to me and my family. My wife and her family are all T-Birds as is my brother. I am forever grateful for Coronado…… Go T-Birds!" Pry said.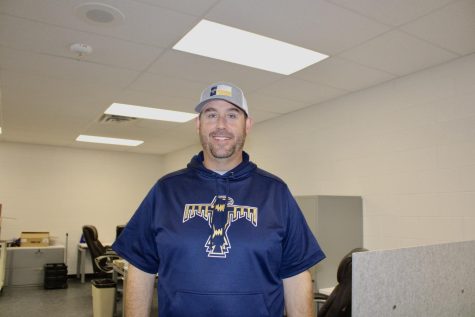 With the off-season workouts approaching and the upcoming season, Pry plans to turn things around after a rough patch of a 5-21 record since 2018.
"I want to implement toughness and accountability. We need to prepare these young men and women for life after Coronado, and there is no better avenue than sports and football," Pry said.
Coach Pry was recently at Pebble Hills, serving as an assistant coach to Coach Torres, before taking the new job here as a T-Bird.  Pry's Spartans went 6-5 last season, qualifying them for a chance to play in the playoffs where they eventually lost to Midland Legacy High School 43-22.  When being asked about his feelings about the upcoming season and if he was going to be uncomfortable having to face his old coaching staff, he responded with grace.
"Not at all, Pebble Hills is my family, always has been and always will be.  Coach T [Torres] and the boys are great people.  I would not be in a position to live out my dream without them," Pry said.
This position is quite prestigious, with former coaches like legendary Don Brooks, Jack Quarles, and Bob Anderson.  Coach Mike Pry is set to do great things with this program, with great young players such as quarterback Blake Randag and tight end Mateo Grajeda.  Following in big footsteps, but the knowledge given to Coach Pry by coaches like Don Brooks will give him knowledge not many other coaches know.