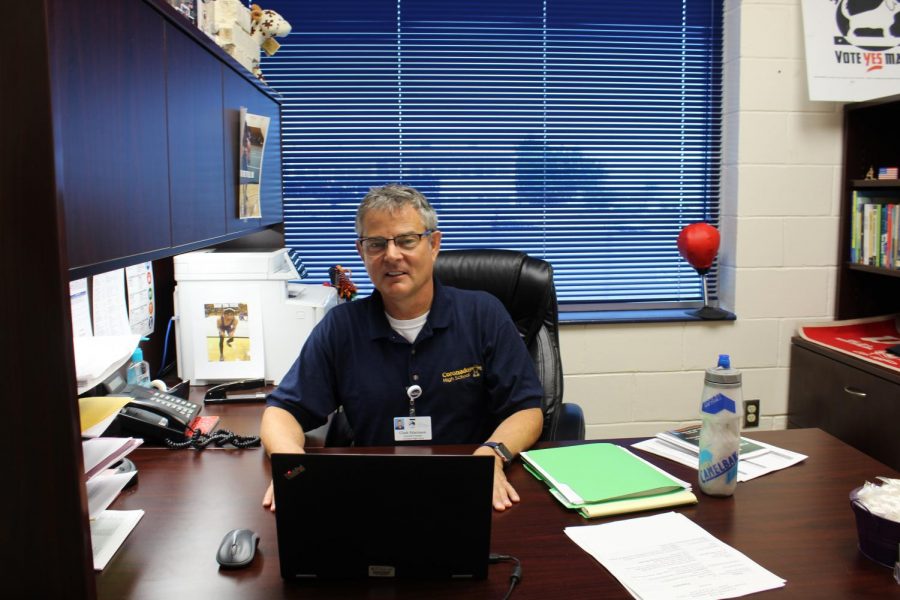 New assistant principal shares story
October 7, 2019
A former employee of the Phillips Petroleum Company, an Iraq veteran, and a school administrator. Despite his insistence otherwise, Mr. Clark Edwinson, the new assistant principal, is living a very interesting life.
The latest part of his journey brought him to Coronado. He worked in other schools previously, including Franklin High School. There, he worked with Mr. Escareno, whose leadership style he admires. With a small grin, he even expressed a desire to be like him someday. He thinks Coronado has an amazing culture and that it starts with the principal.
Other notable attributes about the school are his tremendous colleagues and the respectful students. Overall, he expresses great satisfaction with his move.
"I love to come to work," he said. "I'm so happy to be here."
It has been a long but rewarding process in reaching this happiness. He encountered many changes before finally finding his passion.
Because of his job at the now-closed Phillips Petroleum Company, he moved to El Paso 23 years ago.
"I consider myself as an El Pasoan, and I love El Paso," Mr. Edwinson said.
Then, in 2007, he served a tour in Iraq before ultimately returning to the place he calls home. Through the education field, he found a career that feels like a home, too.
He wishes he had gone into this field sooner, but he is grateful for the opportunity to observe students and talk to them, regardless of whether the topic is a pleasant one.
Outside of his professional life, he does make time for his hobbies. Gardening, biking, and hiking keep him very active. Every day, he arrives promptly at school on his bicycle. He also proudly stated that he once completed a 50-mile hike.
Above all, one of Mr. Edwinson's most defining characteristics is his ability to make anyone feel welcome. He strives to do what is best for other individuals and wants to make sure that every student is welcome in his office, even just to have a chat.