President Trump impeached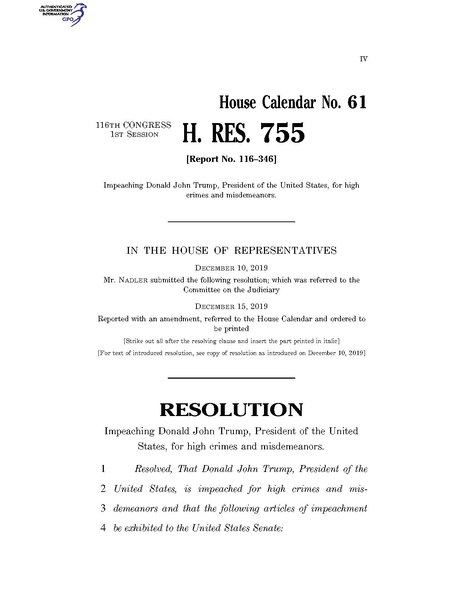 During the evening hours of Wednesday, Dec. 18, 2019, Donald Trump became the third president to be impeached in United States history.
After months of deliberation mounted into enough support for an impeachment inquiry, Speaker of the House Nancy Pelosi launched the investigation on Sept. 25.
The final debate before the impeachment vote took place yesterday. Each party had three hours to make remarks, with each member of the House of Representatives generally being given around a one- to two-minute period to speak.
Shortly before 9 PM eastern time, the House voted to impeach Trump on both counts, abuse of power and obstruction of justice, in separate votes conducted electronically. Of those to vote in favor, all were Democrats. Two Democrats voted against both counts – including Van Drew, who has said he will switch to the Republican Party – and one voted against one of the counts.
After the impeachment vote, Trump took to Twitter to express his opinion.
"I got Impeached last might without one Republican vote being cast with the Do Nothing Dems on their continuation of the greatest Witch Hunt in American history," Trump said in a tweet yesterday. "Now the Do Nothing Party want to Do Nothing with the Articles & not deliver them to the Senate, but it's Senate's call!"
He refers to Nancy Pelosi's uncertainty about sending the articles of impeachment to the Senate to conduct a vote. She has stated that the House will hold off on this action until the Senate agrees to the trial terms preferred by the Democrats. If and when the articles are sent, the trial to determine whether or not to remove the president from office would occur sometime next year.
Until that time, Trump will continue to serve as the president, and both he and the American people will wait for what comes next.