Losing my best friend four years ago
Aug. 24, 2016. The worst day of my life. The day death was introduced to me, the day that changed every aspect of me, the day I felt the most desperate, the day I lost my best friend. It has been four years since it happened. Thinking back, I would guess that it would be a blur by now; however, I remember every single detail about the worst day of my life.
In the summer of 2016, I was about to start eighth grade. I was living back in Turkey, my home country, and I was extremely stressed about 8th grade, mostly because it was the year where all students in the country take a test that would determine their high school future. Therefore, the summer before eighth grade was highly important to me because it was the last summer I could spend freely with my closest friends. 
 My friends and I lived in the same neighborhood called "Melisa Buildings", and our group would spend the whole summer together every year. The group included Bora; Sude; Doruk; Erkin; Vahit; Beyza; her twin, Azra; my sister, Yagmur; and me. The first half of the summer was perfect. We hung out all the time, swam in the pool, played outside, and connected even more. However, everything changed after the first month. Sude and Bora were in a fight which affected everyone in the group, especially me and Erkin. The group was about to break apart, which upset me very much because that summer was supposed to be fun. Instead, we were stuck in ridiculous drama. After a couple of days, my family decided to go on a vacation. That was the beginning of the end. 
 After a week, I got back from the vacation. That was when Sude called and told me that Azra, whom I saw as a little sister, was in intensive care. I remember that the moment she told me, I could not react, blink, or even breathe for a minute. My whole world fell apart. All I could think of was "Why?" I learned that she had a sickness that no one knew about, and her parents found out when she fainted inexplicably in the house. They went to the hospital, and the doctors took her immediately to ICU. The worst part was her twin sister, Beyza, had no idea what was going on. Her parents told her that Azra was in the hospital because she had the flu. They asked us to keep it as a secret from Beyza, which now I feel terrible about. No matter what, she had the right to know, to be able to prepare herself for all the possibilities. For 20 days, all of us waited for her to come back. I remember after that Beyza went home, all of my friends and I would gather around and pray for her to get better. 
 On August 24, I spent the day with some of my friends. I remember calling Beyza that day, asking if she would be coming.
"I am going on a vacation with my family," she said with a voice as cold as ice.
I knew something was wrong, but I had no idea. After that, some of us were hanging out in a cafe next to our houses when we saw Sude riding her bicycle. We weren't on good terms with her at the time, so we just looked at her. At that moment, I noticed her eyes were red like she had cried for some reason. I didn't ask what happened. I wish I had. After a while, Doruk's parents suddenly came, took him, and went out for dinner, which I thought was odd because it was not dinner time. Something seemed to be wrong, but I couldn't put my finger on it.
Then, Bora called me. He said, "I need to tell you something really important."
I asked, "What's up?"
He then told me that Azra had passed away.
Everything stopped. Everything lost its meaning. The whole world just fell apart. I dropped my phone and told my other friend and my sister what happened. They started crying immediately, and that was when it became very real to me. I stood up, started walking, and fell on the ground. Some lady helped me get up, telling me to be calm. But I felt like I had died. At that moment, a part of me was gone forever. The part of me who thought death was so far away from me. I thought that it couldn't reach me. But it did. Later, I found out that Beyza and her family were not actually going on a vacation. They were going to another city for Azra's funeral.  
 When someone dies, everybody talks about how good and kind that person was. Nobody talks about what that person had gone through or what others made them go through. She endured some challenges in the group; she was sometimes excluded by others, and I would do my best to protect her, but maybe it wasn't enough. 
 Azra was such a beautiful angel. She was too good for this world. After she died, our group symbolized her as a butterfly because she represented hope and life. She was always kind no matter what, and she cared deeply for all of us. Today, she is such an inspiration to me in everything I do. I can only hope to be half of the human she was. Here's something that I wrote for Azra last year on Aug. 24:
Azra, I love you very much, I will always love you. You added color to my life in a short time. You always loved me, respected me. You really saw me as your sister. Thank you for everything, my sister. Please visit me in my dreams. I miss you so much. I love you. Rest in peace.
Leave a Comment
About the Contributor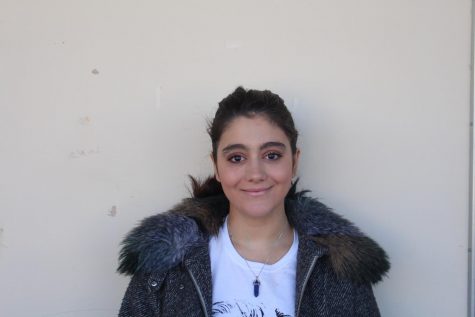 Seray Sezgen, Writer/Photographer
Seray Sezgen is a junior, and this is her first year as part of the newspaper. In her class, she loves to take photos of the stories that the writers create....