EPISD issues homework freeze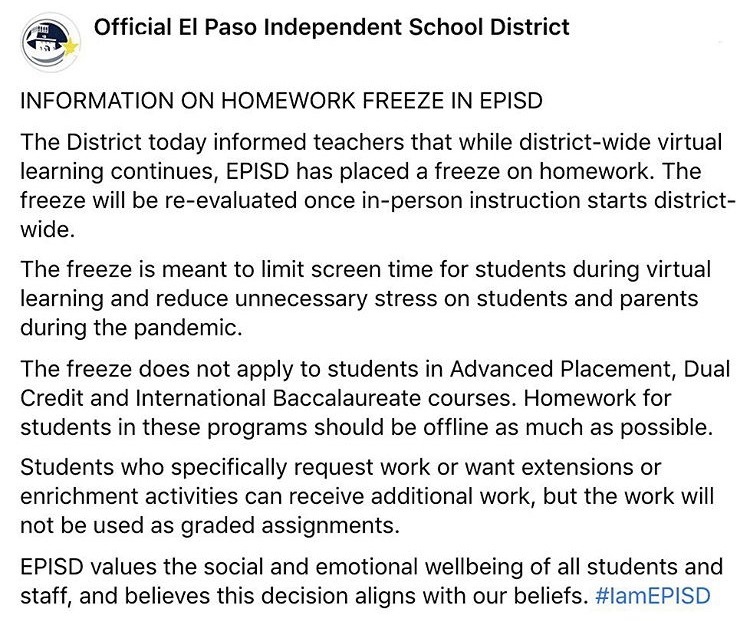 El Paso Independent School District (EPISD) announced a homework freeze, excluding high school advanced courses, for all their schools. This comes after many parents were expressing their concerns about their kids having too much of a workload, saying they did not need the added stress of homework after a seven-hour online school day.
With the news circulating online for the past few days, many people have been communicating their opinions on whether the decision was wise.
Those that supported the decision felt that the homework added unnecessary stress to EPISD students. Sitting behind a computer all day is difficult for not just the student but the parents also. Many parents struggle teaching their younger children, so the homework ban will relieve some issues with that subject.
Another argument is that many seniors are in the process of applying to college, and homework added onto online school will interfere with the time necessary to get applications in.
Still, the homework freeze has its critics. Some parents suggested that, though time away from electronics is needed, most kids will go play video games and use other technology with that extra time away from homework.
Others wondered why the freeze was not applicable to Advanced Placement, Dual Credit, and International Baccalaureate classes. The guidelines for these courses are not controlled by EPISD, but the district is encouraging teachers to assign more offline homework and reduce homework to 50% of the normal levels.
Students in other districts were looking towards their respective superintendents to follow EPISD Superintendent Juan Cabrera's lead. Many of these students also feel like they have too much of a workload.
Even some college students were watching to see if UTEP and EPCC would follow suit. Other college students said that their professors were already watching their workload and respecting their time, ensuring that they would not get too overwhelmed.
The homework freeze will be re-evaluated when students return to campus for in-person instruction in October. For now, both students and parents can enjoy the extra time they have away from homework.
About the Writer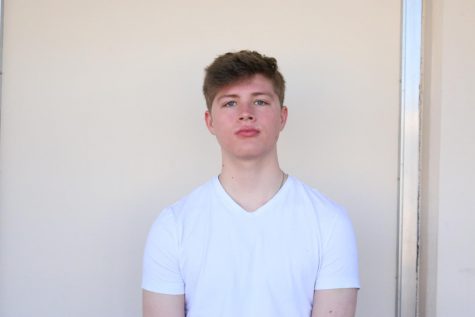 Sean Morrison, Editor
Sean Morrison is a senior and in his second year in newspaper. His favorite part of newspaper is being able to write about sports, which is his main passion....