Student parking remains a major issue
Due to the construction and the relocation of admin and staff parking, students are left with the short end of the stick when it comes to parking. Rushing to lunch, waking up an extra 15 minutes early to get a parking spot, and hurrying to get to class has brought disruption to students' day-to-day routine. 
Students have repeatedly been late, and even absent, due to the lack of parking. Most students park in the new parking lot which is the closest to students' classes, and the parking lot fills up quickly. Once the spots are gone, students resort to other, farther parking spots such as softball or the street El Puente.  These other options aren't as practical because of their distance to classes. Students are becoming increasingly frustrated with the lack of available spots.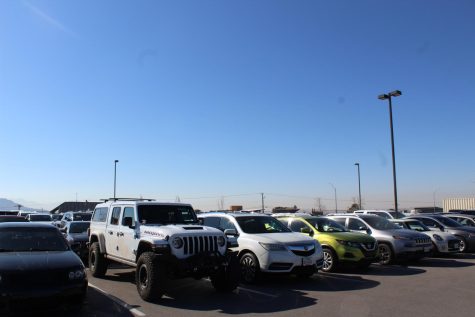 "I chose a first period out to sleep in but now I have to get up before 8:45 regardless," said senior Maggy Hayes. "It's quite upsetting, but we have to make do with what we can, as there isn't a present solution."
Administration understands students' frustrations; however, it also affects staff.  Reserved parking spots are the only way to find a preferred parking spot is to get to school early. 
"It's honestly on a first come, first serve basis," said Assistant Principal Ron Dentinger. "There's not much we can do to rectify the situation, although we encourage students to remain patient."
Once the construction from the 2017 improvement bond is complete, additional parking spaces should be available. Upperclassmen especially will be able to sigh in relief as parking becomes less of a burden. These parking spaces will hopefully mitigate the tardy problem and make school more accessible to students and staff. Students should remain patient as construction, relocation, and parking will all be gradually resolved.
Leave a Comment