Lady T-Birds season comes to an end
Basketball dribbling down the court, players running into defense, the refs trying to keep up, she goes up for the lay-up. Leading with her right arm, she guides the basketball into the white net, the sound of the loud and obnoxious buzzer goes off. The basketball goes in. Game over. The Lady T-birds won their game.
The Lady Varsity Basketball team has had an amazing season these past few months and has been working hard to achieve their season goals.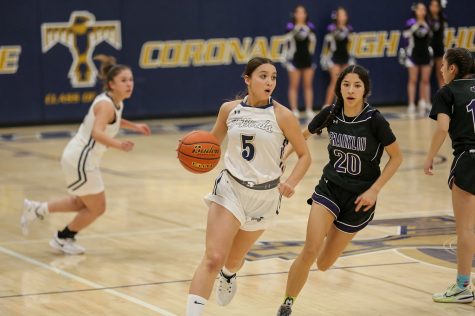 Their team consists of Racheal Watley, Crystal Velarde, Mackenzie Smith, Lala Tulolo, Ximena Gomez, Anahi Guardado, Bella Guardado, Kelsey Finn, and Ella Feuille.
Coach Kristyn 'K'  Valenzuela has guided the team to a total of 14 wins and more than 304 points throughout this season.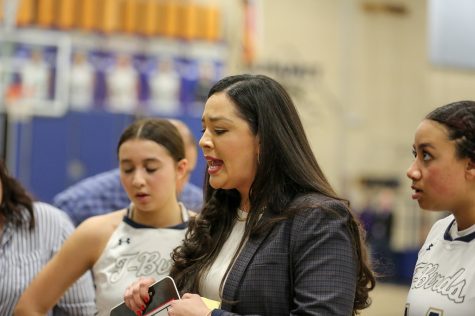 The team is always ready to play with enthusiasm and work together to better themselves and their performance every day. They currently sit at 3rd throughout the 6A district and are looking at advancing into playoffs.
"One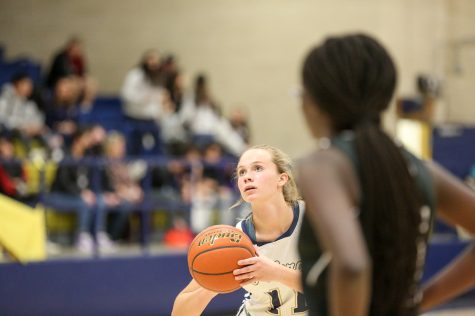 Earning their spot at this season's playoffs has been a goal that has not been done so frequently or recently, but the Lady Varsity Basketball team is putting in the work to make it a reality.
"We're doing really well this season," said junior Ella Feuille. "I'm excited because we are on track to make district playoffs for the first time in 6 years."
Ella Feuille is one of the top shooters on the team and plays every game with liveliness and passion.  She currently scored an impression total of 28 points in one of the team's games playing against Americas High School.
The entire team is made up of talented girls, like senior Kelsey Finn.
"I have always loved basketball, it's nice to always be working towards a goal and trying to better yourself and the way you play," Finn said.
Finn is one of the leading scorers for every game and is a role model for many of the players on the team.
"Our senior captain, Kelsey, has been an inspiration to me and the team because she always plays with so much intensity and she a great leader for the team," said Feuille.
All of the girls play with a tremendous amount of teamwork and have earned to be where they are today.
"It's not about the individual," Coach K said. "They're all about the team, for the team."
The girls' last home game was on Tuesday, Feb. 8 and had an exciting win against Eastlake.
They played a hard game against Friendship High School during the first playoff game but lost with pride and sportsmanship. We look forward to next year and seeing them continue to play their game. This may be an end to the season, but definitely not the last of the T-bird Varsity Basketball Girls.