One Act Advances to Area
This year's thunder theatre has advanced triumphantly from UIL One Act to Area, their competition took place last Thursday, March 24th, and the results were given later that evening.
In addition to the advancement, four talented cast members were granted individual awards. Jose Escoto 'Best Performer,' Amalia Cabrera and Samuel Gutierrez 'All Star Cast,' and Mariza Flor 'Honorable Mention All Star Cast.'
'The Sweet Science of Bruising,' follows the story of four women and professor Charlie Sharp. Set in 1800s London, the period piece emphasizes the women's movement for independence and suffrage. The professor takes on a mission to gather the four women together for a series of boxing matches in an attempt to showcase their strength and independence as women and uncover once and for all, the one and only 'Lady Boxing Champion of the world.'
Jose Escoto, who acted out The Professor, Charlie Sharp, was named 'Best Performer.'
He feels a sense of pride getting to motivate his fellow actors through the steps he takes. To Jose, the best part about rehearsals was getting to connect with his cast members in order to gracefully execute the story.
"The professor to me symbolizes growth through human connections," Escoto said. "His dedication to art and how he sticks to his values is something I relate to."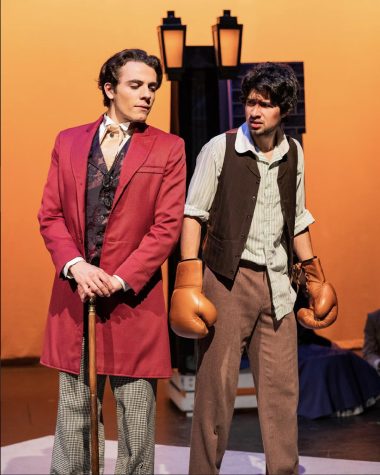 Amalia Cabrera, 'All Star Cast' medalist, is the fierce and passionate fighter, Polly Stokes on stage. She feels a sense of admiration towards her determined character who gets whatever she wants, whenever she wants, no matter what. The long hours of rehearsal filled with emotionally demanding work are more than worth it when she steps up on that stage beside her beloved cast family.
"Theater means so much to me, it is amazing that I have found somewhere where I feel like I belong," Cabrera said.  "When you go up on that stage and perform it's like you're really in that world and it's like the most amazing feeling."
Samuel Gutierrez acted out the part for Paul Stokes, the brother of Polly Stokes, was also awarded with the 'All Star Cast' title. Gutierrez saw a part of himself in Paul, sharing a fiery and temperamental personality and a fierce desire for love. To him, the hard side of rehearsals was the length and intensity of them. A great amount of energy was required each day, but the quality time he got to share with his loved cast members subsided that.
"I think that there's a certain satisfaction when you're rewarded for the work you put in, and especially in theatre, there's such a sacrifice you make being vulnerable to understand the show's stakes and universe," Gutierrez said.
Mariza Flor who plays Violet Hunter on stage, was named 'Honorable Mention All Star Cast.'
The challenges the ambitious boxer Violet faced as a girl with a dream of being a doctor connected with Flor, as she aspires on becoming a doctor in the STEM field. This made it easier for Mariza to understand and become her character.
"The hardest part of rehearsal is being able to transition into the world of the plot," Flor said. "However, this is also the best part of rehearsal, I get to step away from reality and play a character with complex relationships."
Theater Teacher, Martyn Morales, is in awe of the amount of talent held by this year's cast. He saw every single one of them step up when things got rough and preserve through the obstacles presented during rehearsals. 
"I feel good knowing that all the students hard work and dedication has been validated," Morales said. "They've all worked so hard, and I am proud of them."
Tomorrow,  the Theater Thunder will participate in the Area competition in Odessa, Texas. The Explorer wishes them the best of luck, and hopes that their hard work and dedication is validated.
All photos were provided by courtesy of Martyn Morales.