An El Paso doctor's evaluation of the pandemic
At first, COVID did not seem that threatening. It seemed it was contained only to China, and that it would hopefully be over soon. But as the virus progressed, things began to unravel. The world, held by a fragile thread, rapidly went into disarray. Cases rose up in hundreds, thousands, and bit by bit, the year of 2020 has torn apart countries, families, and homes. There is hope, however, but it depends on whether we can work together as a community.
We spoke with Dr. Ogechika Alozie, the Chief Medical Officer at Del Sol Medical Center.
"We came down, and everyone assumed that we'll get better," Dr. Alozie said. "What people forgot was that the cities and states that did good, did good deliberately because they had a plan in place. They focused on ensuring that we didn't open up too fast."
Quick reaction is also key, according to Alozie. States or even countries that did not react fast enough to COVID ended up botching up the welfare of their countries. President Trump's initial reaction to COVID-19 was slow and did not respond to the crisis as efficiently as he should have. Dr. Anthony Fauci, Director of the National Institute of Allergy and Infectious Diseases, reported to CNN that it had been several months since Trump met with the White House coronavirus task force, which is headed by Vice President Mike Pence.
El Paso, in the same regard, was convinced that since the first surge of COVID was not that bad, they could open up. But due to this, the second surge of COVID in El Paso has been incredibly deadly.
Alozie added that if you get COVID, you should wear a mask and socially distance at home to essentially protect the people around you first. Isolate yourself in a certain room and stay away from others. If you are getting more ill and developing serious symptoms, then come to the hospital.
"If you don't think you can wear a mask at home—well if you don't—then you put everyone in your house at a risk of getting COVID," Alozie said. "If you even think you're sick before getting a test done, you should be quarantining yourself from that point on. It's not fair to others in your workplace, in your home."
Alozie pointed out that people have been fighting COVID since March. COVID fatigue is really getting to people, especially when the pandemic is not dying down. Those that have been hit the worst have been the impoverished.
"The biggest legacy of COVID is that the disparities we worked so hard to close, around race, gender, socioeconomic conditions, have really just become wider." Alozie said.
COVID-19 has tremendously affected all of our lives, thrown the country and the world's balance into disarray. The best way parents can help their kids cope through this time, Alozie says, is help them realize that this is only a short part of their lives.
A vaccine for COVID created by Pfizer is safe and 95% effective, according to The New York Times. This vaccine might just create the stability that people have so desperately wanted since the quarantine started. This might possibly just be the end of quarantine and COVID. To achieve the normalcy we so desperately miss, El Pasoans must prevail on through this dark time.
To a brighter future, and to future generations who will hopefully never experience the fear and fatigue of fighting a pandemic.
About the Writer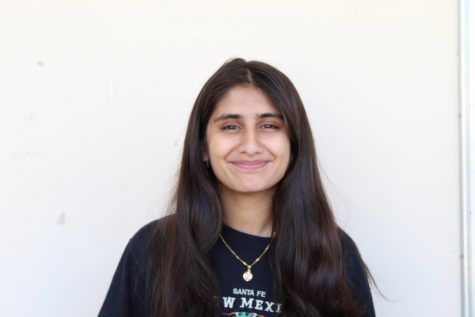 Noorziyan Rabudi, Editor-in-Chief
Noorziyan Rabudi is a senior, and this is her third year in newspaper. She enjoys eating Mughlai and Kashmiri food. You can find her poring over fantasy...