Column: looking forward to 'normal' while feeling grateful today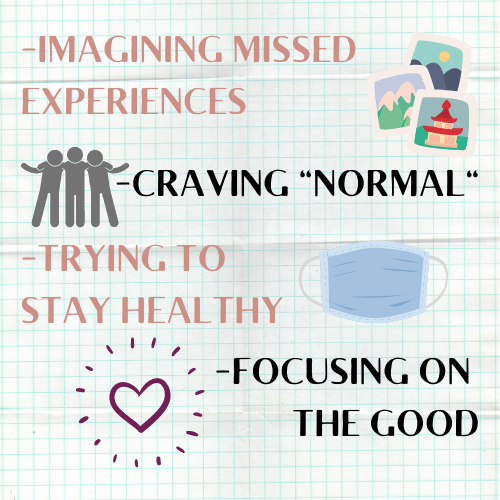 The 2020-2021 school year will go down in the history books as one of the strangest academic years of all time.
Schools around the world shut down, some having to adjust to fully online school and others transitioning into a hybrid-style learning. Students in EPISD, specifically Coronado, didn't receive the luxury of having any aspect of "normality" that a few schools around the country got.
As a part of the senior class of 2021, this has been an extremely weird year. Our junior year was cut off short, and nobody knew whether we would get to go back to school ever again. Unfortunately, the COVID-19 pandemic prevented us from having a "normal" school day, one that we haven't experienced since March 2020 and probably don't fully remember.
Personally, this has been a year that I wish was different, but I am very grateful for having to learn that not everything in life turns out the way you want it to. Many students dealt with mental health issues, such as depression and anxiety, because of the hard isolation that we students had to endure as a result of COVID-19.
Students didn't know when, or if, we would ever have some of the experiences that other previous classes had gotten. Also, many students faced the fear that came with living through a pandemic: wondering if our parents and grandparents would stay healthy and avoid being afflicted with the potentially deadly virus.
In November, several members of my family came down with the virus, resulting in two of them ending up in the hospital, one of them being my own mother. I am very grateful to say that all would recover and survive.
One positive aspect of this school year is that a lot of people, including myself, have become grateful for what they have. Though we didn't get to experience many exciting events that we deserved for our four years of hard work, many received the opportunity to become closer to our families and realize that through hardships, we are not alone and there are still several things to be grateful for. We got the chance to become stronger, and many found new hobbies and interests.
I'm very excited for college and am thankful for receiving the opportunity to be able to continue my education past high school. There is always something to be positive about and be grateful for, and though nobody got to live "normally" this year, many got opportunities that we should be excited about, specifically college.
Hopefully, both high school and college transitions back to "normal" next year and we have a better 2021-2022 school year. Regardless, gratitude should be recognized, and we should focus on the positives of life.