Player spotlight: Jason Nevarez
Senior Jason Nevarez has committed himself to not only sports but academics as well. His accomplishments as captain of the swim team, members of school organizations such as student exec and UISI (United in Service Initiative) are just a few that show his character and dedication as a student and athlete.
"His passion for swimming and the team was epic. He earned his way to team captain," said Coach Mark Levitt. "His presence on the team as a leader has inspired this year's freshmen, who all five have qualified for the Regional Meet."
Nevarez has made his name known around the city, ranking 6th in the region for the 50m freestyle event. Nevarez also has made regionals all four years of high school, something that should be commended as it is notoriously difficult. Although Nevarez is a decorated swimmer, his career is coming to an end this season as he wants to shift his focus to his academic career.
"Jason has provided our team with a high number of points, being incredibly crucial for our success this year," said senior teammate Caden White. Nevarez, according to White, is also part of one of the fastest relays in Coronado history, giving the team a good chance at making state this year.
In the offseason, Nevarez does track for Coronado to stay in shape, but that physical activity doesn't suffice for him, he aids his community as well.
Nevarez is a member of UISI, a volunteer organization that is used to make a positive impact on the community, such as picking up trash around the city or distributing food to local schools.  Nevarez is also a high-ranking Boy Scout and has been in the Boy Scouts most of his life.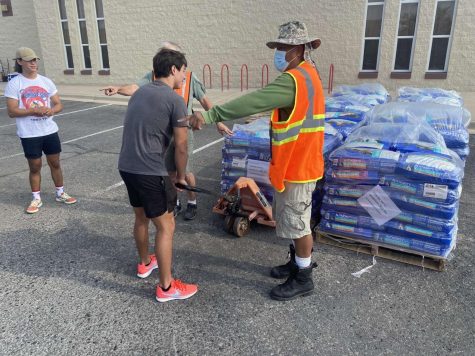 "I've had the honor of working side by side with Jason these last couple years through track and now UISI.  In sports, he is the type to put every ounce of effort he has into whatever he is competing in.  I'm happy to say that this same intense and dedicated work-ethic also translates into his community service," said senior and founder of UISI, Rodrigo Perez. "I witnessed first how his determination transferred into him completing community service projects, always ensuring that his work was of high quality and not stopping until he was finished."
Nevarez's exploits continue into the academia arena. Ranking in the top 8% of the school, he is bound to attend an incredible college after high school, with his top schools being universities such as the University of Arizona, the University of Texas at Austin, and Seton Hall.
"It has been an honor to see Jason in his environment.  His work ethic is truly second to none," said senior and close friend Jacob Armstrong. "I've never met anyone who truly dedicates themselves to anything like Jason does."
Nevarez has laid down an incredible high school career and has an incredibly bright future ahead of him.  Students like Nevarez are hard to forget, and his legacy as an athlete and student will hang around the halls for many, many years to come.