Junior receives scholarship to play volleyball for TCU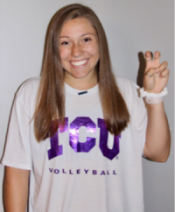 Nine years of endless tournaments, sleepless nights, and stressful decisions finally paid off for junior Alyssa Heist when she received a scholarship to Texas Christian University (TCU) to play volleyball.
Heist has been the starting setter all three years at Coronado, leading the team to three consecutive playoff berths. Heist grew up in a competitive household as her oldest sister Alexia Heist attended TCU and started on the volleyball team for three years in a row.
"Alyssa has played a big role in our team's success," senior Campbell Bowden said. "She is a great player and an even better leader."
Heist strives to be the best person she possibly can, both on and off the court. "I really practice having a good attitude towards everything I do and I'm always trying to help those around me," Heist said.
Outside of volleyball, Heist is active in her extracurriculars being involved in student council, National Honor Society (NHS), and Fellowship of Christian Athletes (FCA). "I've always liked being involved in my community," Heist said. "I think it's a great way to give back."
Heist plans to graduate a semester early to get a head start and begin her freshman year of college in January of 2020. She plans on pursuing a medical-business career where she hopes to receive her bachelor's degree in Health Management from the Neeley School of Business at Texas Christian University.
"I am looking forward to what the future has in store for me," Heist said, "But as of right now I am just cherishing every moment as it comes."